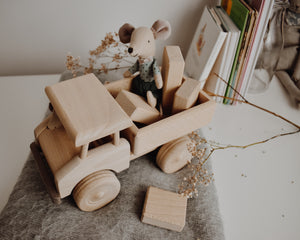 Wooden Truck With Building Blocks
Bubble & Posy
Regular price £22.00 Sale
Our wooden transporter works hard to move items around each day. Loaded on the back are a set of wooden building blocks, perfect for building whatever your imagination can think of. Handcrafted from beech wood and with freely moving wheels. 
Our range of toy vehicles are slowly produced and made with beautiful smooth wood that is durable and safe. They have moving wheels, chunky features, passenger seats, cabins or carriages to make play time come alive. The durability and beautiful aesthetic of our wooden toys are above and beyond their plastic counterparts. Wooden toys are beneficial for learning development and the environment.  
Please note that our wooden products are handmade using natural materials, therefore they may differ slightly with little perfect imperfections that only add to their character. Beautiful wood grains and knots make each piece unique. Adult supervision is always advised when enjoying our toys.
Materials: beech wood
Measurements: 23 x 19 x 13 cm